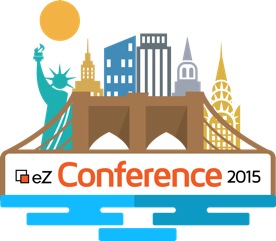 Noch ist Hochsommer, aber der Herbst rückt näher und damit auch der Termin für die diesjährige eZ Conference in New York.
Und jetzt steht es endlich fest: auch silver.solutions wird im November dabei sein. Ania Hentz und Frank Dege sind als Speaker für die eZ Conference 2015 registriert. Sie werden über die Umsetzung komplexer eCommerce-Websites mit eZ Platform und unserer Shopsoftware silver.e-shop berichten.
Die Themen der Konferenz umfassen unter anderem:
eZ Platform & eZ Studio Development – Business and Strategy
Symfony & PHP
Web Development
Front End Development
User Experience (UX) and User Interface (UI) Design
In der aktuellen Broschüre zur eZ Conference (englisch) gibt es noch ein paar Einblicke und ein paar Punkte, warum sich das Dabeisein lohnt.